We have several package options to choose from that are guaranteed to make your next golf event a memorable one! Your players will be talking about this one all day long! It is completely safe, fun and an experience that all ages can participate in.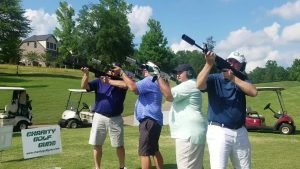 AR-15 Golf Ball Launchers
Mulligans, longest drive, putting contests, Hole In One for a car? Yeah, you've been there and done that! Forget paying a long drive champion thousands of dollars to hit a long drive for a few players, for a fraction of the cost give every player a chance to launch their own 400+ yard shot!
PAR 3 PONG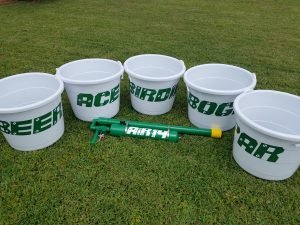 I have recently purchased more AiR 14 Cannons that are virtually silent. It is not the same experience as the AR-15 but can still reach up to 250 yards. I can also adjust it to reach down to a short par 3 if needed. To add a new twist with the AiR-14 I am adding a new game Extreme Pong. With this version I would set up 5 or more empty "Beer Tubs" on the green of a par 3. If any players land in one of the tubs, they score an ACE. If they land on the green, they will putt as normal. This is a new challenge that can only be used with the Air Cannon.
Available for 2021  Hole In One insurance Prize for the Air Cannon
We can now offer a special insurance package for events wanting to add a $10,000 or $25,000 prize for a hole in one with our AiR-14 Cannon.
Call for special pricing based on the estimated number of players registered.